Folks, a couple of Tweets featuring fashionable potato sack pants are making the rounds in cyberspace and have apparently gone viral to some extent. So I thought I'd scour Google to see what's out there if burlap is your thing. And there seem to be plenty and more…
The Indian Express published an article titled Pants made of potato sack? Bizarre fashion item leaves netizens in splits, saying: "The year 2020 has seen quite a few bizarre fashion trends, from grass-stained denim to men's tee with holes. Adding to the list, is a new style of pants that looks like a potato sack and has been doing the rounds on social media." The photo was shared by Arun Bothra – @aranbothra. Check it out: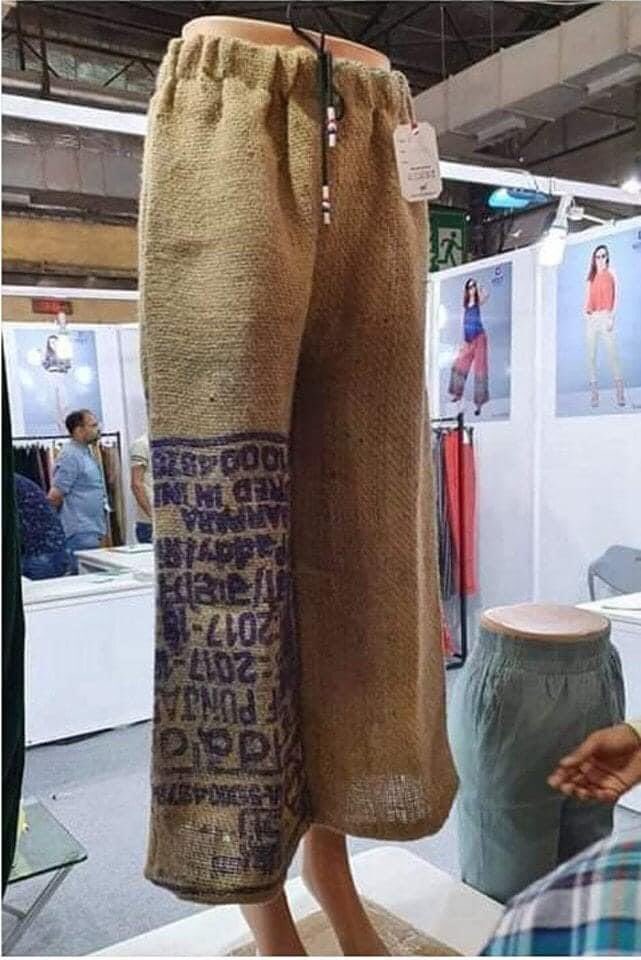 Potato Boutique in Idaho features Paige Pearson – the Junior Miss Blackfoot 2009-2010 – in a potato sack dress extraordinaire. A couple of examples:
Potato Parcel encourages everyone in a Pinterest post: "Idaho's finest! Tag a friend who would rock the potato sack dress @produce_queen"… The dress seems to lean towards California, but nonetheless…
At Amazon you can buy a one-size-fits-all Kicko Popular Burlap Potato Sack race bag for a mere $7.99 if you want to ensure no one misses out on the "Authentic Party Hop" at your kid's next neighborhood party (post-COVID, that is).
Speaking of which – go visit Bestreviews.com to learn about the 5 best-bang-for-your-buck potato sack race bags.
And hop no further than down under to find tips and hints on potato sack races from the Aussie Childcare Network.
And then there is the annual Great Ely Potato Race…
Canadian based REDBUBBLE offers a range of goodies to satisfy your cravings when binge shopping for everything burlap – from dresses to skirts to T-shirts and scarves.
.
.
.
.
Not to be left behind in the potato sack dress department, DuckDuckGo says you can fit yourself out with a trendy, fashionable number any time.
Way back in 2010 on the TV series Project Runway, the age old saying "she's so pretty she'd look good in a potato sack" was tested. "The designers must create a party look from a burlap potato sack," was the challenge. The winner was a black dress.
Also from Project Runway's potato sack project:
And just when you think you've exhausted all potato sack possibilities, why not consider getting yourself a potato sack bag to get your favorite drink safely from point A to B (or wherever you go…), Identity Links will help you out with an eco-friendly, Low Cost Burlap Potato Sack featuring your custom imprint or logo.
Can we conclude this piece without reminding everyone of that iconic, timeless Marilyn Monroe potato sack dress? I guess not…
Cover photo: Courtesy Carnival Savers